China's services sector continued to recover in Aug
2022-09-08
China's services sector in August continued to recover from the recent wave of COVID-19, a private survey showed on Monday.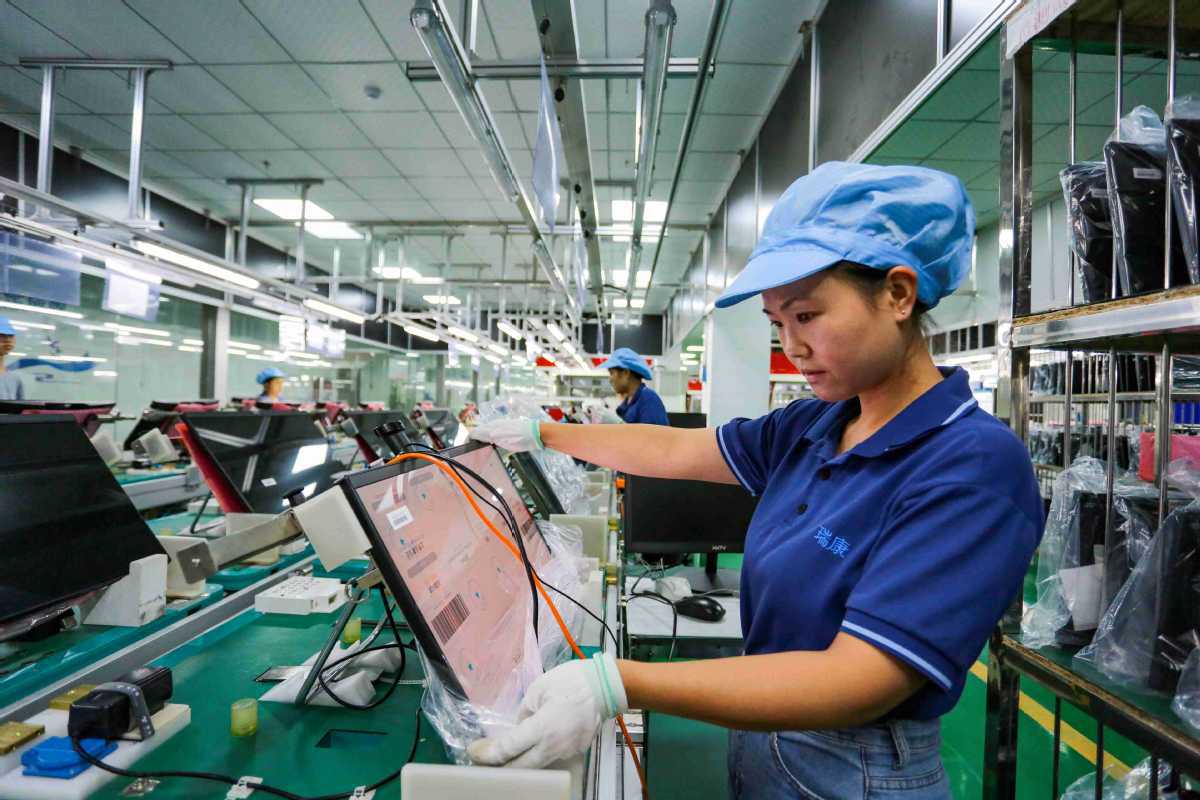 Employees check displays at a production facility in Jiujiang, Jiangxi province, in August. WEI DONGSHENG
The Caixin China General Services Purchasing Managers' Index came in at 55 in August, compared with 55.5 in July, marking the second-quickest pace since May 2021, media group Caixin said.
A PMI reading above 50 points to expansion, while one below signals contraction.
Wang Zhe,senior economist at Caixin Insight Group, noted both supply and demand in the services sector expanded in August.
While the services PMI and the gauge for new orders fell slightly from July, the readings stayed well above the 50-point mark that separates expansion from contraction.Although some firms mentioned that the recent COVID-19 outbreaks affected their operations, the majority reported that their business improved, Wang said.
According to Wang, market optimism strengthened. The sub-index for future activity expectations came in at the highest in nine months, with companies expressing confidence about further economic recovery from the pandemic.
Caixin's composite PMI, which includes both manufacturing and services activity, dropped to 53 in August from 54 in the previous month, remaining in the expansionary territory.
"Rare high temperatures and sporadic COVID-19 outbreaks were the main factors weighing on the economy in August," Wang said. "The impact of the extreme weather was more significant than that of the outbreaks. The resulting power shortages greatly restricted manufacturing production, whereas service providers remained largely unaffected. The manufacturing sector benefited more from lower expenses as a result of falling commodity prices."
Wang said the economy is slowly recovering from a widespread outbreak of COVID-19 in the first half of the year, though it remains under pressure.
"While the central bank has recently cut key policy interest rates to guide banks to lower financing costs for companies and individuals, the effect will depend on market players' confidence about the future," Wang added. "The government should step up measures such as additional subsidies and assistance for low-income groups."
Xiamen Guoante Security Equipment Co., Ltd. Specializes in disinfection tunnel for COVID-19 epidemic prevention, our business production is carried out orderly and services are growing steadily under our local government's strong control of COVID-19, welcome to visit our website: https://www.sanitizertunnel.com to find your favorite products.